REGISTER
PARTICIPANT REGISTRATIONS TO THE 2023 EDITION ARE CLOSED!
REGISTER AS A PARTICIPANT
Please find all the information on deadlines, registration fees and payment procedure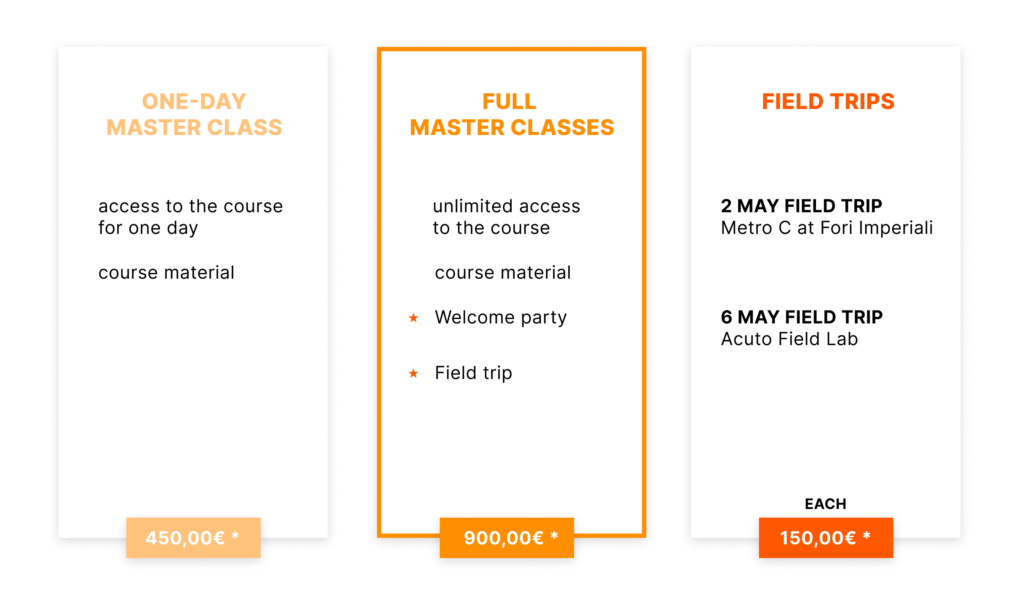 *All prices are VAT not included. Currently 22%
Details
The Fee Full Master Classes included the Metro C – Fori Imperiali Field Trip
The Welcome Party will be on 2nd of May at Metro C – Fori Imperiali Field Trip;
The Expo Area is free access to everyone at Ex Cartiera Latina, Rome;
All participants can access to Exhibitor DEMOS for free;
The opening session at Aula Magna of Sapienza University of Rome is free access.
REGISTRATION FORM NOT AVAILABLE
REGISTRATION INFO
PAYMENTS
The registration fee must be paid in Euro (€) by bank transfer. Further instructions will follow the online registration.
Please note that admission to the Expo Area cannot be guaranteed if the payment is not received on or before the 8th April 2023.
REFUND & CANCELLATION POLICY
If you must cancel, cancellations made prior to the 31st of March 2023 will be entitled to a full refund minus 20% of total amount for the service fee. Cancellations made after the 31st of March 2023 will not be given a refund, however substitutions are allowed.
Please consider that the registration process is not complete until the payment is confirmed by our office.
SUBSCRIBE TO OUR NEWSLETTER
NHAZCA S.r.l.
VAT Number: 10711191006
REA: RM-1250972
Share Capital: 40.000 €
Univocal Code: W7YVJK9
Registered Office
Via Vittorio Bachelet, 12
00185 Rome (Italy)
Ph.: (+39) 06 95.065.820
PEC: nhazcasrl@pec.it
E-mail: info@geotechnicalmonitoring.com