Field Trip
Discovering monitoring systems at Roman Forum
A fascinating Filed Trip on geotechnical and structural monitoring has been organized at the Roman Forum of Rome, on 16 June 2017. You could learn more about the monitoring systems, strolling among the ancient ruins of Basilica of Maxentius and the Temple of Venus and Roma!
The Field Trip will be opened to geologists, engineers, architects or academics who want to join us for this unique experience.
Take a look to the Field Trip flyer!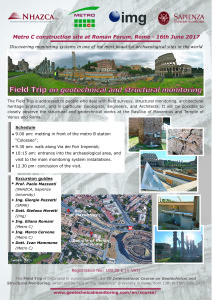 Registration fee: 100,00* €;
* All prices are VAT not included. Currently 22%.
The registration deadline is on 4th June 2017.